What's Laminate Kitchen Cabinets
Kitchen cabinets are made of a variety of materials, such as natural wood, aluminum, plastic, laminate. If natural wood, aluminum or plastic, we are too familiar, laminate or other materials are not well known. So what is laminate kitchen cabinets, how is the quality, should be used or not? Please follow the article.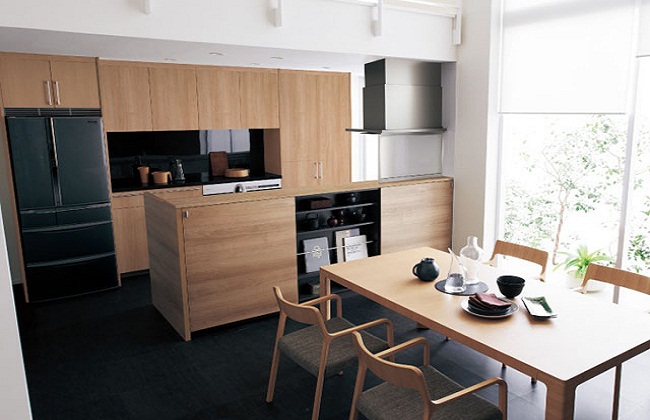 What is laminate kitchen cabinets?
Before considering kitchen cabinets, we need to understand laminate. This is not a material, this is actually just a surface sticker, this sticker is often used to stick on industrial wood surfaces to increase the quality and aesthetics of the kitchen cabinets.
So, laminate kitchen cabinets are actually industrial wooden kitchen cabinets that are glued outside a laminate layer to serve the needs of consumers, increase product quality, beauty. Detail:
+ Lumpy laminate surface with extremely high scratch resistance.
+ High toughness and strength.
+ Can withstand a great impact, withstand solutions or high temperatures.
+ Colors range from wood grain colors to solid colors.
+ Easy to construct and install because laminate wood volume is much smaller than natural wood.
+ Easy to clean, clean and sanitize surfaces.
Should I use laminate kitchen cabinets?
First, together with The Moc Gioi, we will take a look at some of the strengths and weaknesses of this type of kitchen cabinet before you – tu bep go cong nghiep. Knowing this information will easily know whether to use or not?
A. Advantages
– The beauty is no less than other kitchen cabinets, with high product durability of up to several decades.
– Heat, force and moisture resistance are good. Resistant to scratches caused by impact or sharp objects contact.
– NO warping, no cracking, no damage during use.
– Diversity of colors because laminate surfaces have many different colors, from wood grain colors to solid colors and also with glossy color codes.
– Although the surface is quite rough, it can be cleaned quickly with just a cotton towel and used detergent.
– Suitable for modern and luxurious interior style.
B. Disadvantages
– Considering some other glued surfaces like Acrylic, the beauty of laminte is not too high.
– The durability cannot be compared with the natural wood kitchen cabinets
– Not suitable for classical or classical neoclassical architecture.
– The price is more expensive than the industrial wood kitchen cabinets that do not use a pressed surface.
Through the above information, we can see that Laminate is a mid-range product, the quality is also in the top form when compared to other industrial wooden kitchen cabinets. So if you want to make wooden cabinets, this is a pretty good choice.
Conclusion: The article helps you better understand laminate materials, laminate kitchen cabinets as well as news about this product. If you need to make laminate cabinets or need advice, contact 0926132132.